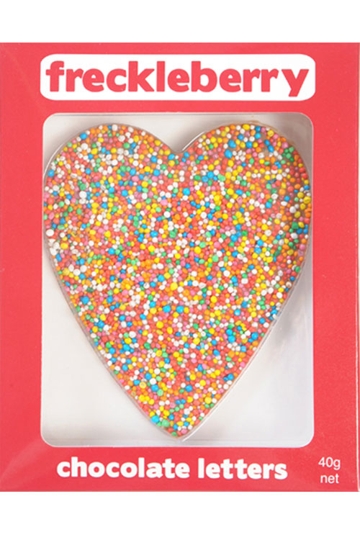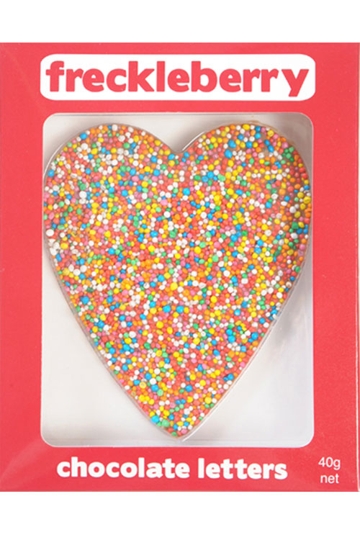 http://images.birdsnest.net.au/system/images/0058/1683/Heartrs.jpg
Choc Freckle Heart




available
(click to request)
Features
Will this suit me?
Delivery & returns
Features
He might love you, he might love you not, but you definitely won't care when you're in possession of this scrumptious Freckle Heart!
Our birds can't get enough of Freckleberry - they've stolen our hearts, and this is the best, tastiest way we know to get one back!
Love, Sarah-Lou and the birdsnest girls x
PS Please note that these items are made of chocolate, so during hot summer months, they may melt while awaiting collection.
40gm
Belgian chocolate
10cm high
The sun loves Freckleberry as much as we do! Please consider this when deciding whether to ask the postman to leave your parcel outside... in which case the shape you receive may be different to the one that you ordered!
Style code: FRE-FLS-2
Will this suit me?
The Choc Freckle Heart suits these body shapes:
Hips
| | | |
| --- | --- | --- |
| Straight | In between | Curvy |
Suits these events:
Delivery & returns
Fast Delivery
We deliver our orders to you via Australia Post. If orders are received before 1pm EST on a business day we aim to have the order to you within 2 working days. All Australian parcels are sent via express post.
No hassle returns policy
We pride ourselves on a no hassle returns policy. If it doesn't fit or suit - please return the item within 365 days for a full refund, credit or exchange. Any questions please call us on 1300 696 378 or e-mail on customerservice@birdsnest.com.au
Ratings and reviews

2 reviews
Average rating
100%
2 / 2
of reviewers would recommend
Sort by
| | |
| --- | --- |
| Name: | Jodee |
| Colour ordered: | Heart |